Meet our Principal, Kevin Klein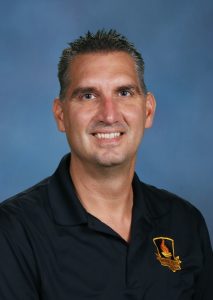 Kevin Klein graduated from Eastern Illinois University with a Bachelors of Art degree in Psychology.   He then attended graduate school at the same school and earned his Masters of Science of Education with an emphasis in Guidance and Counseling.  He moved from Illinois to the central Florida area in 1997 and began his career as a guidance counselor for an elementary school.  While there he was encouraged to pursue a leadership degree. He was able to acquire his Educational Leadership degree from the University of South Florida and became an assistant principal for an elementary school.  He moved to SJCSD in 2003 when was hired as the Assistant Principal for Switzerland Point Middle School in 2003.  He became the Assistant Principal at Wards Creek Elementary beginning in the 2013-2014 school year. He became the Principal for the 2021-2022 school year.
Mr. Klein is extremely excited about being part of the Wards Creek Warrior family.  Mr. Klein's favorite part of the day is watching the students arrive at school with such excitement for what the new day will bring. He will often tell the students he receives his energy from their smiles.  So, it's not unusual to see a student make sure he sees them smile so he can have a great day.  If a child gives someone a "thumbs up," they may have learned that from Mr. Klein, as that's often the way he lets the students know he is proud of their effort.
Mr. Klein is an avid collector of quotes.  One of his favorites comes from Abraham Lincoln, who once said "No man stands so tall as to when he stoops to help a child."
---
Kasey Baker, AP
Mrs. Baker is new to the Wards Creek family this year but comes to our school with extensive experience in St. Johns County Schools.  She enjoyed many years as a teacher at Cunningham Creek Elementary and has been an Assistant Principal and LEA previously at Palencia, Ocean Palms, and Hartley Elementary. Mrs. Baker is looking forward to getting to know all our Wards Creek Warriors this year!  If your child has an IEP or EP within the general education setting, Mrs. Baker is your contact.
---