Mission Statement
At WCES we ensure Achievement, Learning, and Leadership for ALL.
Vision Statement
To build and sustain a culture that provides a safe environment where all stake holders collaborate to ensure growth and achievement for all.
Building a Legacy of Leadership
Brick by Brick

Wards Creek Elementary is building a legacy of leadership and we want you to be a part of our ongoing history! We are offering commemorative bricks on our Legacy Walkway in front of our school building. Buy one to honor your current or former student, your family, a great teacher, a community member, alumni, your business or civic organization, or just to support our school. We want all friends and family to be included, so please spread the word!
Click here to learn more or place your order.
School Supply Lists are available below in our Featured Links section or on the Registration Page.
School
Events
The following forms must be completed prior to school events for entrance to WCES: 
District mandated for entrance to the school for any reason.
For specific school events – must be filled out for each seperate event.
Business Partners
Please contact Bill Beringer if interested in partnering with WCES
Email – [email protected]
Find all relevant and need to know information in our Wards Creek Brochure (linked above) – Contains Information about the follow:
School Hours and Contact Numbers
Cafeteria
HAC/SAC
PTO
Extended Day

School Hours
Arrival – 8:00 am
Classes Begin – 8:25 am
Dismissal –

2:45 pm – Mon, Tues, Thurs, Fri
1:45 pm – Wed
The WCES Book Fair starts this Friday, 9/18! The Book Fair link and code will be available soon. Families can shop online 24/7 Friday, 9/18 – Friday,  9/25 and then all books will be delivered to the school and handed out to the students. Please check out our Wards Creek Book Fair Flyer.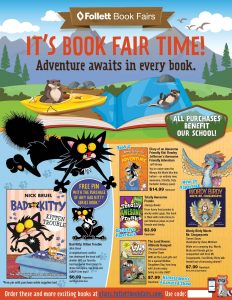 We believe that:
The Character Counts Pillars of Trustworthiness, Respect, Responsibility, Fairness, Caring and Citizenship are essential qualities to model and instill in our students.
All individuals are valuable and can make meaningful contributions.
A caring and compassionate learning environment will support the needs of the whole child and inspire all to reach their full potential.
Leaders are life-long learners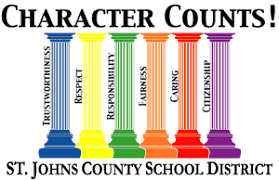 FortifyFL is a website and app developed at the direction of the Florida Legislature. Any student, educator, parent or member of the public can report school safety concerns directly to law enforcement and school administrators anonymously and easily through the FortifyFL app or getfortifyfl.com.
This is just a reminder that anyone (parent, guardian, friend, neighbor, aunt, uncle) must have school access to attend an event at Wards Creek Elementary, have lunch with a student and/or attend an awards assembly. If you have not already done so, please complete the School Access Form. The process for approval may take up to 4 weeks, so please fill out the application sooner than later for any guests that would like to have school access. Once the application is approved, school access will be valid for three years.
Distance Learning for Elementary Students
Parents are invited to watch the following presentation to find out what school-based distance learning will look like for elementary students.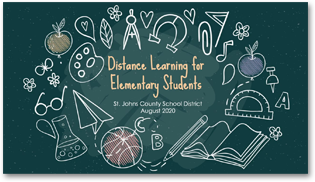 Additional Videos & Presentations
Important Documents
ESE Parent Advisory Meetings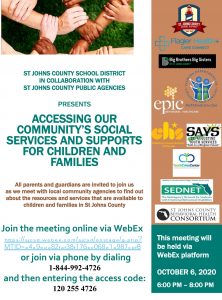 On October 6th from 6:00pm to 8:00pm, the ESE Parent Advisory will welcome the St. Johns Behavioral Health Consortium for a virtual discussion titled "Accessing Our Community's Social Services & Supports for Children and Families in 2020/2021." Join the meeting online via WebEx or join via phone by dialing 1-844-992-4726 and then entering the access code: 120 255 4726.